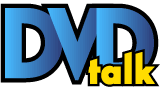 I've talked about these DVD Talk challenges before, but the gist is this: Each challenge runs the course of a month and is built around a single theme. For instance, this month has been the inaugural Animation Challenge. Anything animated counts, from shorts to features, from TV episodes to the Muppets's "Bohemian Rhapsody" music video.
There are, ostensibly, two goals: to reach 100 items viewed within the month, and/or to complete the checklist. For those who think watching 100 short films is the way to go, I should point out there are some conversion rules; 90 minutes's worth of shorts is equal to one feature, as is two hours of broadcast TV. (So if you watched, say, four episodes of
Family Guy
, that's worth one entry, whether you watch them on TV, DVD, online, etc.).
The most interesting thing for me so far has been to explore the Library of Congress's digital collection, "
Origins of American Animation
." Of course, the animation is primitive; some of the short films are literally more than a century old! It's fascinating to explore some of these early efforts. One of the most interesting ones I've watched so far is
A.W.O.L. - All Wrong Old Laddiebuck
, presented for some reason in two parts (thought it was originally presented in its entirety). This concerns a group of soldiers who, once the 1918 armistice was signed, feel they should immediately be discharged to return home. Their impatience is understandable, and one grunt feels justified in running amok with an alluring young lady, Joy. Their escapades eventually lead him to court and then the brig...just in time to watch the rest of his unit depart for home. It's a curious exploration of the frustrations of life in uniform and the frivolity of youth.
You can view
A.W.O.L.
online from the LoC
here
.
My list of viewed content for the challenge can be viewed at DVD Talk
here
.
Next month at DVD Talk is the Criterion Collection Challenge; read the discussion thread
here
, and I invite you to participate beginning 1 September 2010!